I thought I'd jump in too :) I haven't posted here in ages - I've been busy with my studies, and when I have had time to stitch I've been working on a non-HAED (which is almost finished, yay!) which you can see the progress on
here
.
My first HAED was an Angel Virtue which as far as I can tell has been long since retired, Hope. I started her in 2006 while recovering from a nervous breakdown at the grand old age of 18 on 25ct Days Gone By linen...I love the colours on the linen and the chart and will probably stitch her again at some point, but I hate 25ct linen and discovered this rapidly! I was also trying to use terrible needles and two threads which probably didn't help... she's rather pretty, but eventually I discovered 25ct evenweave, which was better, and by the end of that year had migrated to 32ct which is where I think I'll stay. I have quite a few HAED WIPs, though none are calling so it will probably be a while before I pick one up again - I love watching everyone else's though, these charts are magic :)
Here's a picture for you all: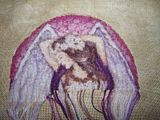 it's a clickable thumbnail, you can have a look at the bigger picture if you like. In reality she's stiff and lumpy and I don't like her much, but she is quite pretty at the smaller size!