This past weekend, I worked on QS Daydreaming Fairy for the BB Freebie SAL. Here's my progress:
I'm really enjoying stitching her. She's 1x1 on 28 count evenweave.
And I've also made some progress on Faulkner's TT BoPeep: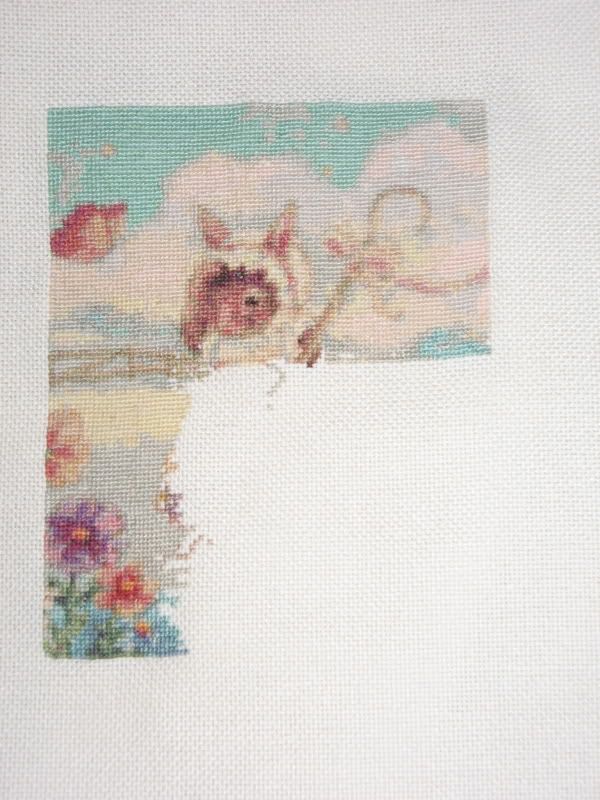 She's 1x1 on 32 count lugana.
I'll be joining in the SAL tomorrow with Storykeeper. Everyone's stitching is gorgeous- I'm looking forward to seeing everyone's progress this week!
Gabi, you asked what my other 9 WIPs besides Storykeeper are.
Full size: Anderson's Moth Queen (have less than a page done on her)
Daniels' Luna (working on her only during the BB retired artist SAL)
Sessler's Calming the Tempest
QS: Butcher's Leo ACEO (one page to go)
Mastrangelo's Easter Bunny (he's a companion to Buttercup Bunny which i finished last year)
Daydreaming Fairy
SK: Vacher's Automne
TT: Faulkner's Bo Peep
PTP: Mastrangelo's Bleeding Hearts and Tulips
beth